Zpátky na skladě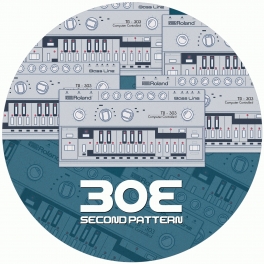 COLLECTOR! Pouze 1 ks skladem v Praze!
Good little acid pearl... inna total dancefloor

Transparent VINYL !

The 303's Second Pattern contains four acid and acid-techno masterpieces from artists without sharing their identity. They definitely do know how to squeeze the most out of that beloved silver magic box! Your crowd and eardrums will love this one!

The Light
As Dylan Thomas once wrote: 'Do not go gentle into that good night, Old age should burn and rave at close of day; Rage, rage against the dying of the light.' This track is by no means gentle, with disturbing acid that won't leave any listener untouched.

Darkness
Step out of the Light and embrace the Darkness. Once embraced you won't let go, with acid squelches sucking you deeper and deeper and pounding beats that will block your way back.

Machina
This silver Machina has one direction which is straight into the brain. Enjoy the energy while riding on this acid fueled techno train. Get your crowd aboard this fast-moving Acid Techno roller and send them into higher spheres!

S003
True analog beats and acid basslines carefully positioned to create maximum forward momentum. Combined with a conjuring atmosphere an intense and energetic vibe on the dancefloor is guaranteed!
Zodiak Commune 303 02
Skladem!
(doba dodání pro ČR 1-3 prac. dní, mimo ČR 3-7 prac.dní)