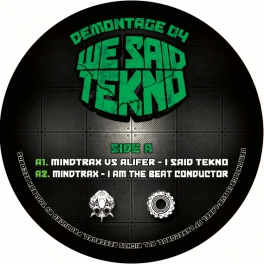 Hadtek tribe Hardfloor jewel from Tcheky ! Long time no see !! A side brings 2 electro Hardfloor tunes, 170 BPM cruisers. Rabve style, full of electro overdrives and sounds abuse... with Acidcore intrusions... B side opens with the Dave LXR song...184 BPM kicker, pityless and quiet crossbreed at some point on its structure... Hardcore actually ? Last track is a Hardfloor 180 BPM electrocution. Kicker raver !
Demontage 04
In stock
(delivery 5-10 working days)
A1 - Mindtrax vs Alifer - I said Tekno!
A2 - Mindtrax - I am the Beat Conductor
B1 - Dave.LXR - TekTanker
B2 - Alifer vs Mindtrax - Feel The Acid